Tile Flooring in Highland, IL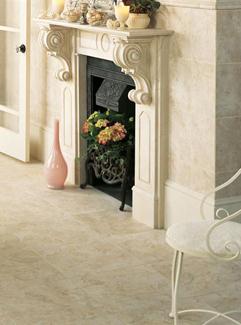 For that undeniably beautiful, classic aesthetic that makes any space stylish, choose tile flooring in Highland, IL, from our collections. Tile is a durable, timeless flooring solution that is always in style. The beauty of tile isn't the only thing it has going for it; it is also among the most functional flooring options on the market, perfect for kitchens and bathrooms due to its singular ability to repel stains and water damage.
No one has a better selection at lower prices in the area than our flooring showroom when it comes to floor tiles. Let us help you by making your next flooring project both affordable and stress-free thanks to the quality of our selection, composed of the finest products and materials on the market today. We carry everything, from glass tiles to porcelain and ceramic tile floors.
There are several different materials to choose from when looking into tile floors, each one is useful for a different need. The huge selection available at our flooring showroom has every variety of tile you could need. Regardless of your lifestyle, budget, or aesthetic desires, we are here to aid you in deciding on which material and style are best for your needs. Whether you need help with the design process, color matching, or even installing the tile, we are the company to trust.
Tile Floors Come in a Variety of Styles
One of the most stylish and durable options for your home is ceramic tile. It offers numerous design choices—from colonial to contemporary, both elegant and timeless. Ceramic is suited well to kitchens and bathrooms thanks to its resistance to stains and water, which enables it to hold up to all manner of spills and rigors. It is also extremely durable, capable of handling dropped bowls, cups, and even appliances without chipping. Needless to say, ceramic holds up for years under strenuous conditions.
Porcelain, on the other hand, is a bit stronger than ceramic tile, made with fine dense clay that is fired at extremely high temperatures. It is often used in commercial as well as residential settings because of its sturdiness, strength, and durability. Porcelain stands out by possessing a stone-like, elegant appearance, excellent for those who desire a refined look for any room or area on their property.
Professional Tile Flooring Installation
The quality of your tile installation is as important as the quality of the tile itself. With our effective and efficient tile flooring installation, you are sure to protect your investment far into the future. Team up with our skilled and experienced installers to ensure the meticulous installation of your new floors. Our professionals have the most professional tools and equipment along with the knowledge to provide a meticulous install.
Our in-house installation specialists provide competitively priced installation work that's on your schedule. In addition, we also offer some of the best warranties in the industry, so rely on our team every step of the way—from selection to design to installation.
For more information about our 12-month financing:

Contact us today to set up a free consultation on getting the tile flooring of your dreams. We proudly serve the communities of Highland, Troy, Greenville, Trenton, and the Breese & Carlyle areas in Illinois.