Luxury Vinyl Flooring in Highland, IL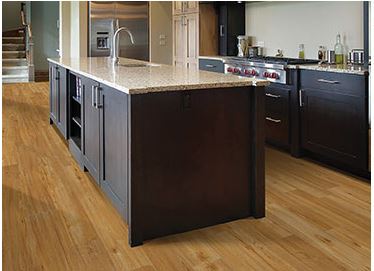 Create a stunning look throughout every room of your home or business when you shop our selection of luxury vinyl flooring in Highland, IL. At our local showroom, we carry a wide variety of different products for spaces of all sizes. Whether you want to upgrade your bathroom, bedroom, or kitchen, you are sure to find the right product when you visit our store. Our inventory of resilient flooring includes options that fit any room. Speak with us today to learn how our flooring can make your rooms stand out for all of the right reasons.
The Benefits of Resilient Flooring
When you are looking for a new look for your home, choose luxury vinyl tile for an affordable option. Our selection of flooring is available in styles that mimic popular materials, including hardwood, ceramic, or stone.
If your home has children or pets, you already know the importance of an item's durability. Resilient flooring offers homeowners a stunning look without the need for regular maintenance. This durable flooring variety holds up against spills without developing dents or warps, making it an ideal style for busy households.
No matter what type of style you are looking to add to your space, there is a product available for you. Our showroom features materials in a complete range of colors and styles, including options that complement any space.
With all of the options available, it can be difficult to make the right choice for your remodeling projects. When you shop with us for your luxury vinyl plank flooring, our team is happy to help you select the perfect style for your space. Our flooring specialists meet with you to discuss the features and benefits of each of our products. Whether you prefer a modern or traditional style, you will find something you love when you visit our showroom. We feature a full inventory of products from top brands, including:
Excellent Luxury Vinyl Flooring Installation
After going through the selection process for your luxury vinyl flooring, we are happy to finish your job for you. Our team of professionals is available to perform a complete luxury vinyl flooring installation for rooms of all sizes. With us on your side, you can trust that your installation will be completed the right way the first time. We focus on the details to ensure that every plank and tile is placed properly, preventing warps, uneven tiles, and other issues from developing.
For more information about our 12-month financing:

Contact our team to shop with us for your luxury vinyl flooring products. At our showroom, we carry resilient flooring for customers throughout Troy, Greenville, Trenton, Breese, and Highland, Illinois.