Bathroom Remodeling in Highland, IL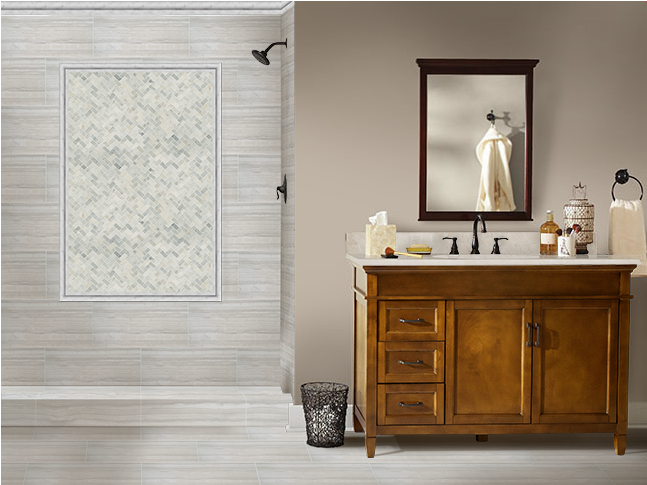 Do you ever notice that when you renovate your home, you are always quick to do rooms that require little to renew and update the look? It's easy to change wall colors and incorporate flooring, with the help of a professional, but did you know your bathroom is always the first spot where the age of your home shows. Outdated taps and tub colors are a telling sign that it needs some serious updating.
So when you're thinking of renovating consider making upgrades with a bathroom renovation by Luitjohan Flooring America. Although you don't think about it, did you know that your bathroom is one of the most used rooms in every house? Eventually, your guests are going to have to use your facilities so renovating this space is well worth the investment.
Imagine them walking into your newly renovated spa-like space that will leave them in awe. You might have to go shoo your guests out because they will be hesitant to leave your spectacular oasis. Then, of course, you will have to gush for hours about your unique design and your reasoning behind it leaving them feeling envious of your new bathroom renovation from Luitjohan Flooring America in Highland, IL.
Despite its small size and utilitarian nature, the bathroom presents every bit as much of a design opportunity as the other rooms in your house. Even those that are kept up well need to be updated eventually, and we're the perfect place to turn to when the time comes. Just imagine how nice it will be to finally fix that ever so annoying leaking faucet once and for all.
From the design to the installation, we offer superior service throughout your entire bathroom remodeling project. We take on renovation projects of all sizes and complexities, from small upgrades to major overhauls. Another huge benefit of remodeling your bathroom is the space gained in your bathroom. You can now make a small bathroom feel more spacious by renovating it and reconfiguring your fixtures allowing for more space. Our experts know how to transform even the tiniest of areas, and our design and installation team will help your designs and install:
Vanities
Tubs
Toilets
Flooring
Tile
Feature Walls
Custom Showers
Our showroom offers plenty of products and all of the professional help you could need for any bathroom remodeling in Highland, IL.
About Our Custom Showers
Now is your chance to install the shower of your dreams. Have you ever watched those DIY shows where they install a shower that has 4 or more shower heads? Feel the stress fall away like water droplets with shower heads strategically placed to hit your shoulders and neck after a long day at the office.
At Luitjohan Flooring America, we install showers using the Schluter shower system which is an easy option that's guaranteed to improve your space while preventing future water damage. This system is made to be waterproof so it can be installed in conjunction with any of our tiles and is one of the most common materials used in showers. Our Schluter system is easy to clean and comes in every color of the rainbow and can even form a pattern to add an artistic touch or feature.
Kerdi showers are an all-inclusive package containing each of the components required to create a watertight shower assembly. These showers are made to be installed quickly ready for wall tile installation. Feel free to add the pattern of your choice almost anywhere in the bathroom, including over the sink or behind your tub, although, we believe the best place for a feature wall is inside one of our tile showers. Dress up an area that may otherwise not get much notice and enjoy your design even from behind the curtain.
By having your shower custom-made with Kerdi showers, you'll know it will fit within your bathroom's parameters and be exactly what you want. You'll have all of the space you need with the look that you like while incorporating features to show off your artistic flair. Have a unique design in mind? Just let us know, and we can easily make your vision come to life on the tile.
For more information about our 12-month financing:

Contact us today at Luitjohan Flooring America for more information on the bathroom flooring services we offer. We proudly serve Highland, IL, and the surrounding areas.