Bathroom Remodeling in Highland, IL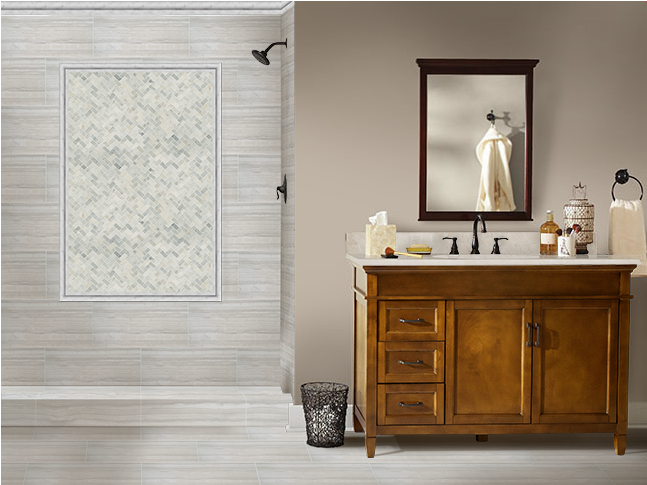 When you're thinking of bathroom remodeling in Highland, IL, consider making upgrades to your bathroom. Since it's one of the most used rooms in every house and is one that guests are almost certain to see, renovating this space is well worth the investment. Our showroom offers plenty of products and all of the professional help you could need. From the design to the installation, we offer superior service through the whole job. We take on bathroom renovation projects of all sizes and complexities, from small upgrades to major overhauls.
Despite its small size and utilitarian nature, the bathroom presents every bit as much of a design opportunity as the other rooms in your house. Even those that are kept up well need to be updated eventually, and we're the perfect place to turn to when the time comes. We're experts in bathroom remodeling and know how to transform even the tiniest of spaces. Our design and installation team designs and installs vanities, tile, and showers, and we can put in a backsplash or feature wall for you too.
About Our Custom Showers
We install showers using the Schluter System -- an easy option that's guaranteed to improve your space while preventing future water damage. Schluter's Kerdi showers are made to be installed quickly and in a watertight manner. Our professional knowledge combined with their products allows for a waterproof shower that's ready for wall tiles and bathroom backsplashes. By having it custom-made, you'll know that your shower will fit within your bathroom's parameters and be exactly what you want. You'll have all of the space you need with the look that you like.
The Schluter Shower System is made to be waterproof so it can be installed in conjunction with our tiles. Tile is one of the most common materials used in showers because it's easy to clean and comes in every color of the rainbow. It can even form a pattern to add an artistic touch or feature.
With a remodel, you can incorporate features to show off your artistic flair, and a backsplash does that more effectively than almost anything else. Add the pattern of your choice almost anywhere in the bathroom, including over the sink or behind your tub; although, we believe the best place for a feature wall is inside one of our tile showers. This way you can dress up an area that may otherwise not get much notice and enjoy your design even from behind the curtain. With our diverse selection and skillset, we can easily make your ideas come to life.
For more information about our 12-month financing:

Contact us for a floor that brings the benefits of a high-end material without the issues that go with them. We install floors all over Highland, Troy, Greenville, Trenton, and Carlyle, Illinois, and the surrounding neighborhoods.